Get to know Detectify at RSA 2023
April 24-27, 2023
Moscone Center, San Francisco
Detectify is the only fully automated External Attack Surface Management (EASM) platform that provides complete coverage across the entire external attack surface.
We set the standard for EASM by providing 99.7% accurate vulnerability assessments through 100% payload-based testing. ProdSec and AppSec teams trust Detectify to expose exactly how attackers will exploit their Internet-facing applications.
Our solution applies DAST methodology with an External Attack Surface Management (EASM) mindset to deliver the most value to AppSec and ProdSec teams.
Meet us at RSA 2023
Reserve a time now to meet our team and learn more about Detectify
Book booth demo
What's going on at booth S-2067?
From swag to product demos, we've got plenty of plans in store at the Detectify booth at this year's RSA 2023.
1:1 meeting opps
Interested in meeting one-on-one with a Detectify expert at RSA Conference? Contact Jonas Elmqvist, Head of Sales EMEA & US at Jonas.Elmqvist@detectify.com for more info.
Free swag up for grabs
Our merch is always super popular — we'll have a fun assortment of accessories available to choose from.
Meet our CEO
Connect with our CEO at Insight Partners Scale Up Suite, an exclusive event for CEOs and CISOs.
Get a demo/Start a free trial
See Detectify's EASM platform in action with a live demo at our booth. We'll also set you up with a free 2-week trial.
Get to know our products at RSA 2023
The Detectify platform automates continuous real-world, payload-based attacks crowdsourced through our global community of elite ethical hackers, exposing critical weaknesses before it's too late:
Surface Monitoring strengthens the security of your applications' Internet-facing subdomains and continuously detects exposed files, vulnerabilities, and misconfigurations.
Automatically scan custom-built apps, find business-critical security vulnerabilities, and strengthen your web app security with Application Scanning.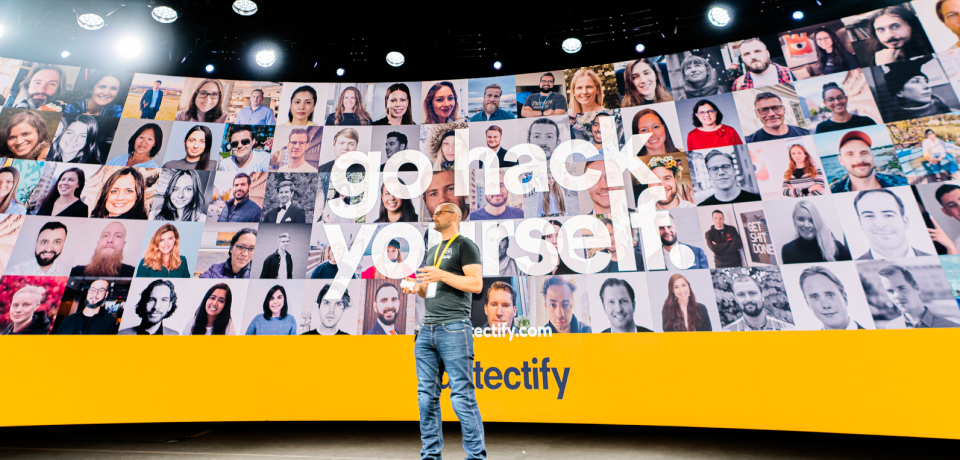 Meet our CEO at Insight Partners Scale Up Suite
Take the opportunity to meet our CEO, Rickard Carlsson, throughout RSAC at the Insight Partners Scale Up Suite at 111 Minna Gallery. This exclusive event allows peers and customers to connect with Rickard one-on-one during RSA 2023.
Scale Up Club party
Join Rickard on April 26 from 6–9pm for an evening filled with great conversation, celebrity performances, food, and drinks. This invite-only event will allow you to network with leaders and executives who are moving the industry forward. Learn more and RSVP here.
Get a discounted full conference pass
We'd like to make it easier for you to join us in San Francisco with $150 off your Full Conference Pass. Use the limited discount code 52FCDDTCTFY to take advantage of this offer.
What's included in a Full Conference Pass?
Full access to the expo.
All track sessions.
Learning labs.
Continental Breakfast & Breaks.
and more.
It's our first time at RSA Conference, and we're excited to share how AppSec and ProdSec teams can:
Continuously discover and test all assets for vulnerabilities.
Cover your entire public DNS footprint, including ports.
Identify security issues in custom-built applications.
Get critical findings with advanced crawling and fuzzing.
We look forward to seeing you on April 24-27, 2023, at Moscone Center in San Francisco!