Complete External Attack Surface Management for AppSec & ProdSec teams
Start covering your external attack surface with rigorous discovery, 99.7% accurate vulnerability assessments, and accelerated remediation through actionable guidance, all from one complete standalone EASM platform.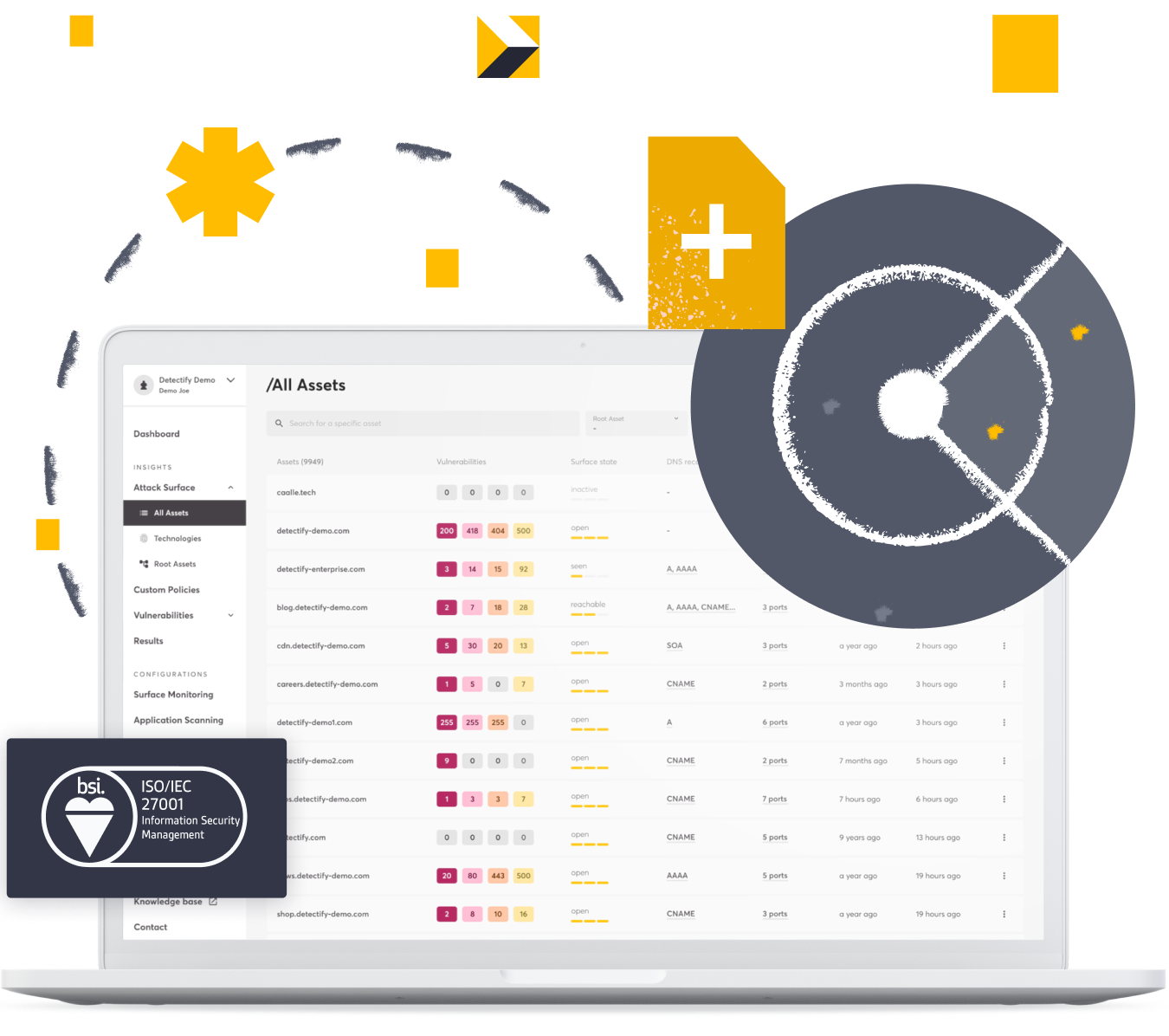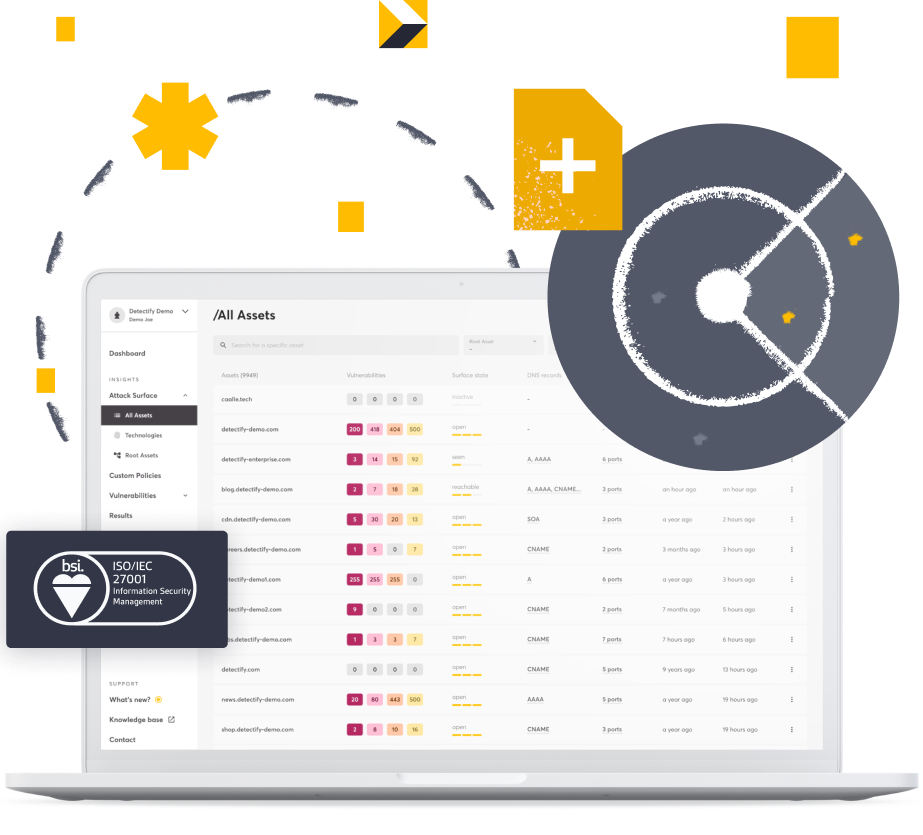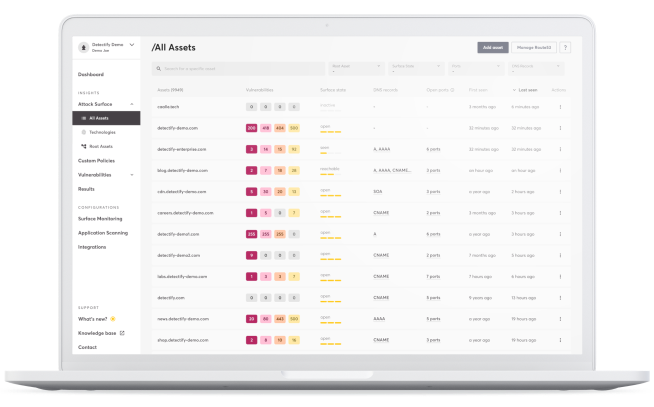 100%
Payload-based testing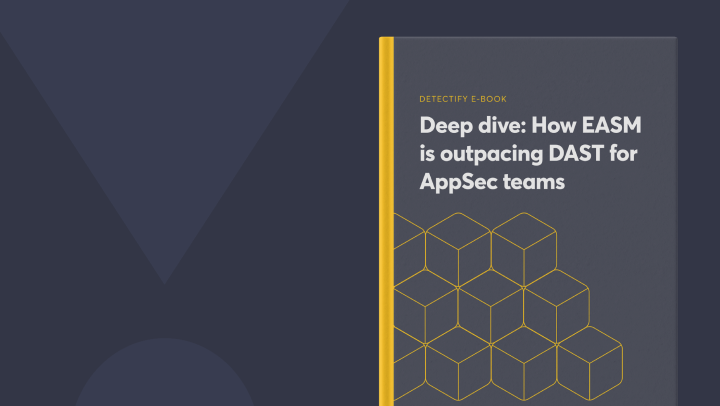 Latest e-book: How EASM is outpacing DAST
Critical capabilities are missing from DAST (and similar tooling), and AppSec teams feel the pinch as their tech stacks and development methodologies continue to evolve. Learn how traditional web application scanners are not helping AppSec teams achieve their goals and how this can be resolved with the help of External Attack Surface Management.
Get the e-book
Detectify helps 10,000+ users manage their attack surfaces
Discover our products
One solution for comprehensive coverage of your attack surface
Surface Monitoring
Continuously discover and monitor all Internet-facing assets that you host with Surface Monitoring.
Cover your entire public DNS footprint, including ports
No complex configurations to get started
Fingerprint your tech stack
Learn more
Application Scanning
Find and remediate business-critical vulnerabilities in custom-built apps with advanced crawling and fuzzing.
Render and crawl a custom-built application for in-depth findings
Maintain state and test authenticated areas
Scan massive applications with smart page filters
Learn more
Broader and deeper coverage
A platform that provides complete coverage across the external attack surface
Surface Monitoring gives a comprehensive view of your attack surface, while Application Scanning provides deeper insights into custom-built applications. We recommend combining both products for the most comprehensive attack surface coverage.
Book demo
Do you have a large digital footprint?
For organizations with large amounts of domains and subdomains, we offer a flexible, scalable, and customized offering. Contact our sales team to learn more.
Contact us
FULL EASM SOLUTION BENEFITS:
Get exclusive features
including SSO, API access, bypass/automatic domain verification, custom modules, and attack surface custom policies.
Monitor massive enterprise products
and prevent hackers from accessing your organization's most sensitive data.
Dedicated CSM
a dedicated Customer Success Manager ready to partner with.
Multi-team Setup
is available for flexible organizing of assets, access levels, and results.
Unique crawling and fuzzing engine
that goes beyond the capabilities of a "traditional" DAST scanner.
Custom designed pricing
based on your assets and the size of your attack surface.
Let your security team be enablers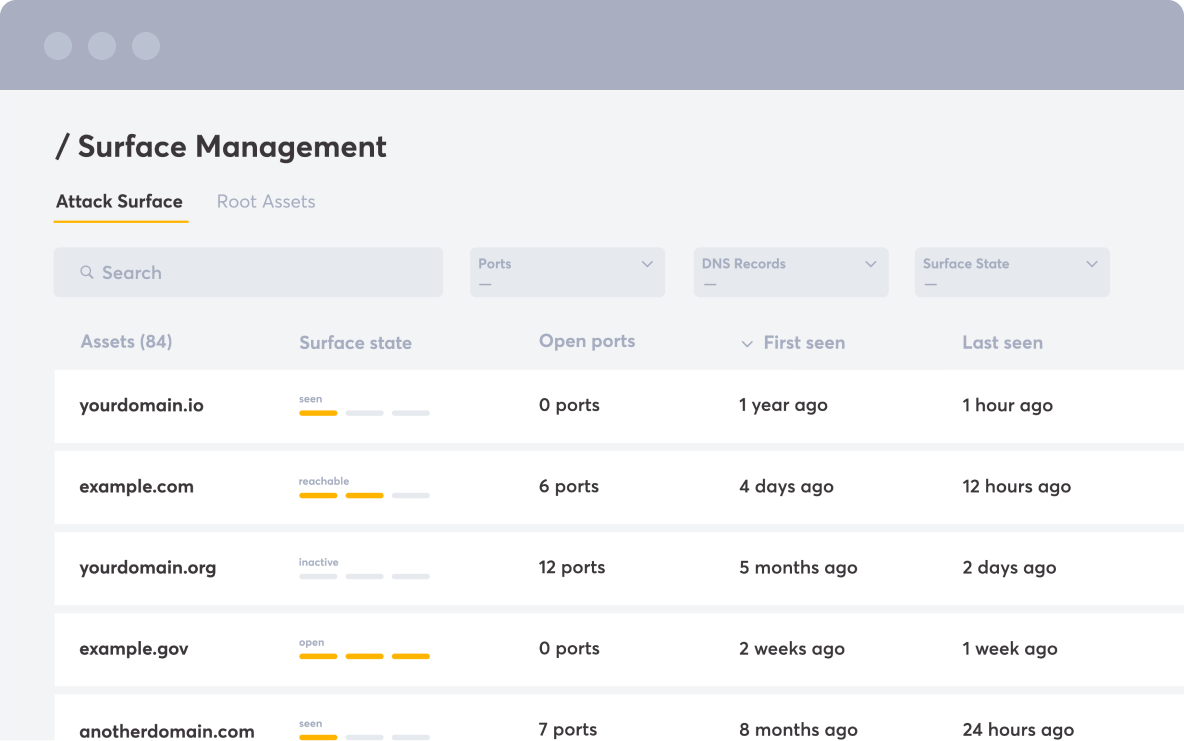 Continuous and automated discovery & monitoring
Continuous and automated discovery & monitoring
Continuously mapping your attack surface is half the battle; that's why we run daily, continuous tests on assets we've identified. Easily begin discovering known and unknown assets within minutes of turning on the platform.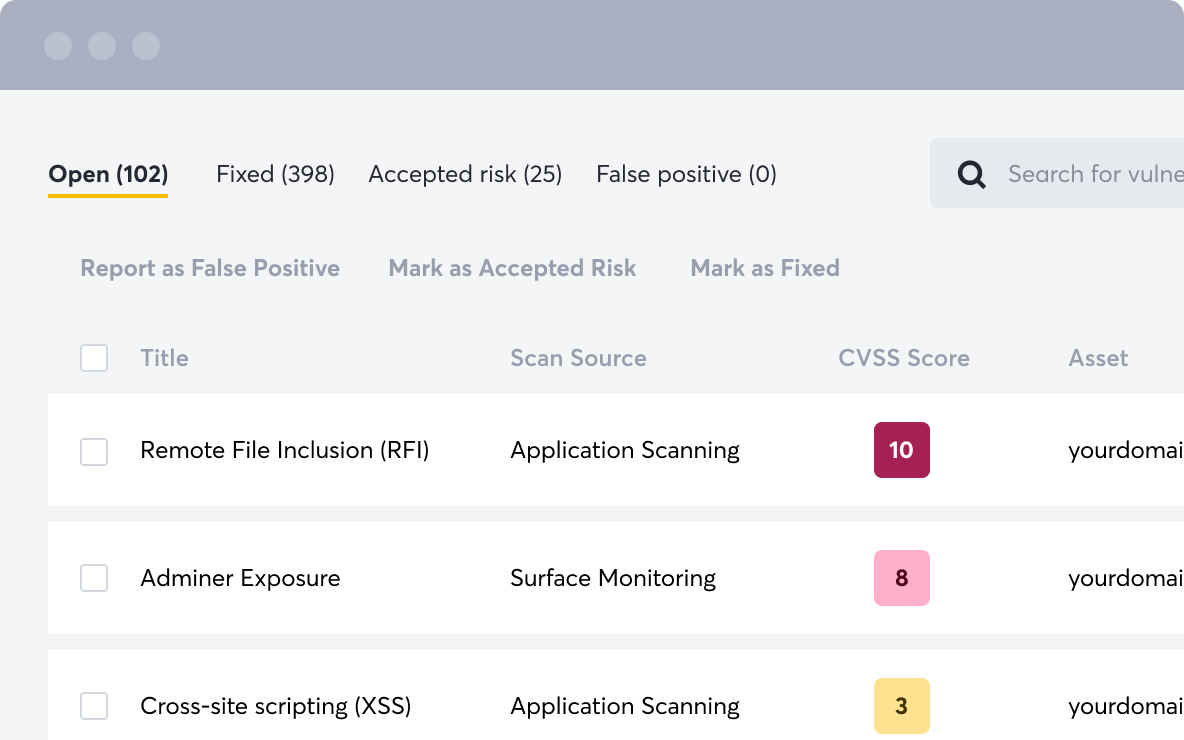 Rigorous findings and assessment from 100% payload based testing
Rigorous findings and assessment from 100% payload based testing
We minimize the noise with 100% payload-based testing. Leveraging payloads ensures your team doesn't have to spend precious time validating information and keeps our accuracy rate at 99.7%.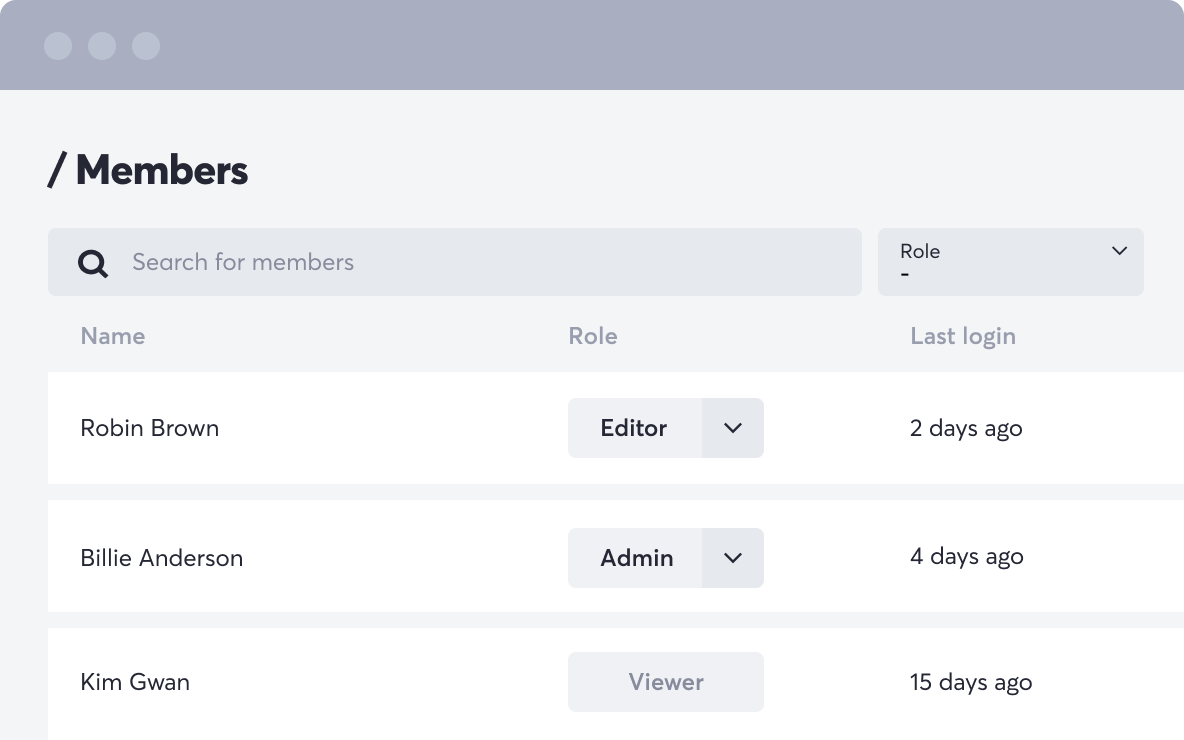 Fully customizable with collaboration built into the platform
Fully customizable with collaboration built into the platform
With multiple ways to set up your security team reporting, easily integrate results into your existing workflows and processes for maximum value. Our powerful integrations and API make it possible for security teams to get the most out of our platform.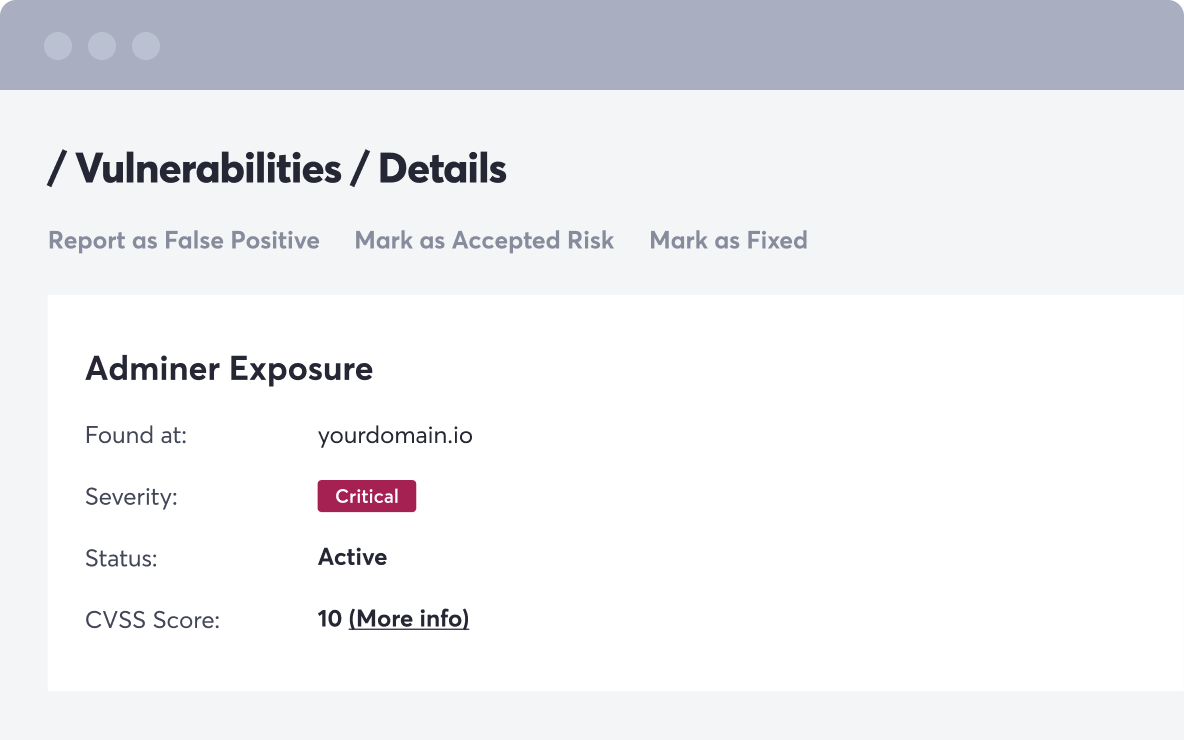 Powered by real ethical hackers - 15 minutes to implement new tests
Powered by real ethical hackers - 15 minutes to implement new tests
We're the only External Attack Surface Management platform that fully automates ethical hacker knowledge into our platform. New security tests are added daily, with submission to implementation in as fast as 15 minutes.
Industry use cases
A standalone EASM platform for today's modern organizations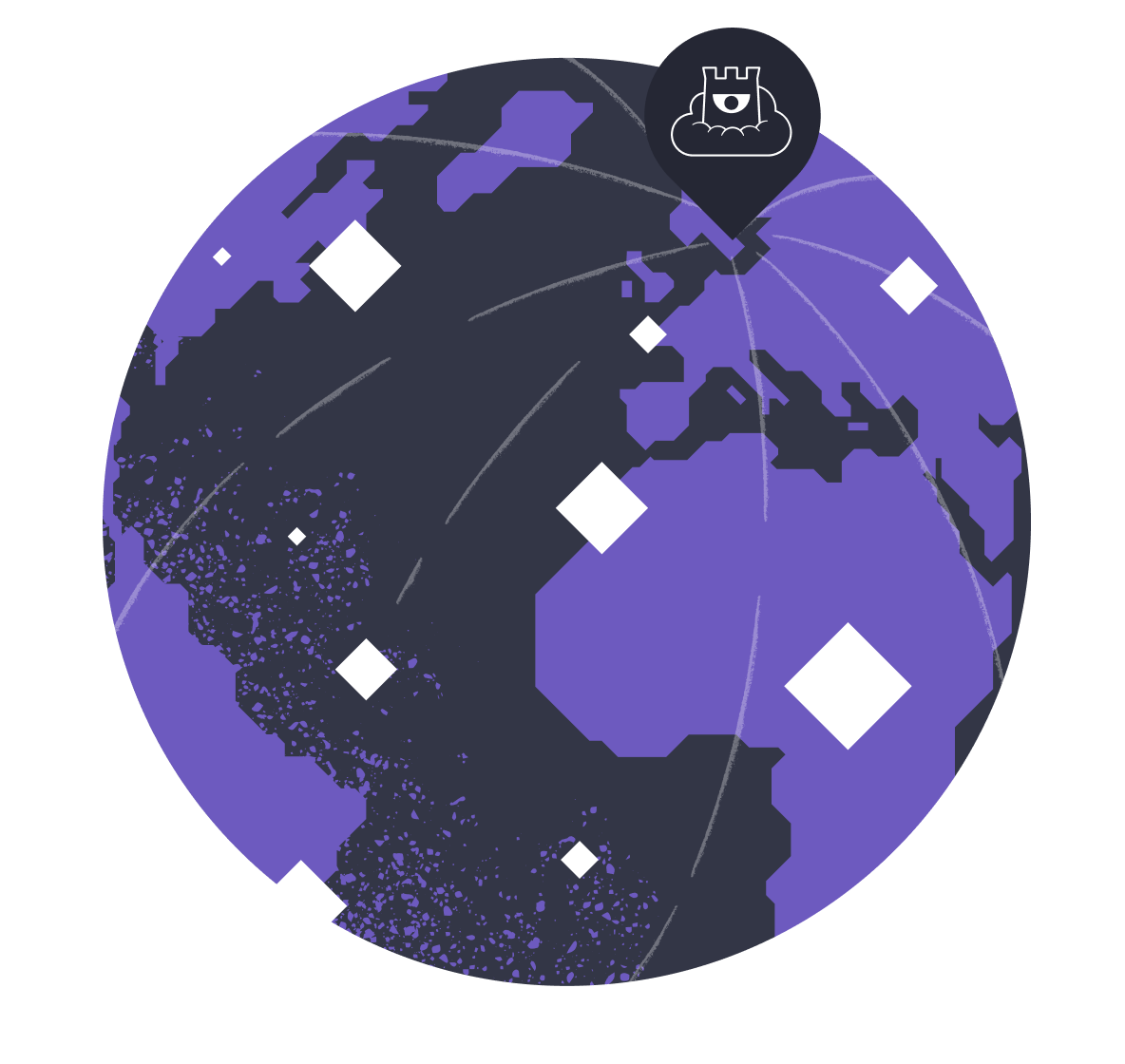 Detectify crowdsource
The power of ethical hackers
Crowdsource, our community of ethical hackers, constantly discovers vulnerabilities across widely-used technologies. Detectify's repository of unique vulnerabilities is continuously growing thanks to Crowdsource - researchers have submitted over 1,765 modules, 300+ 0-days were received in 2020-21, and nearly 240,000 vulnerabilities have been found in customer assets.
Testimonials
See what our customers think
Don't just take our word for it. We've helped several of the world's most popular digital product companies, organizations with many subsidiaries, and those with issues in third-party software and supply chains stay secure.
Read case studies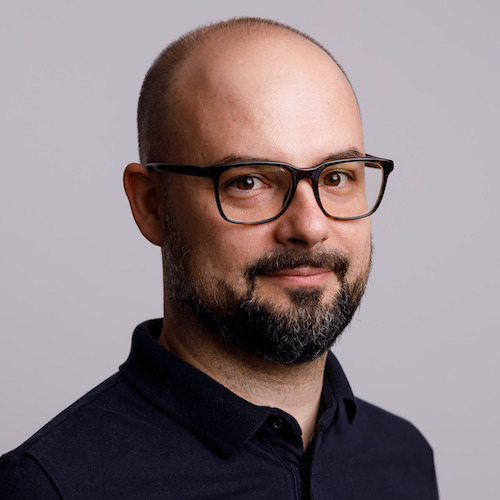 Marcin Hoppe
SENIOR ENGINEERING MANAGER
Auth0
"There are a lot of extremely noisy tools, and they generate a lot of findings, but to get to the true positives, you have to spend a lot of time analyzing the results. So we were very happy with the low rate of Detectify's false positives."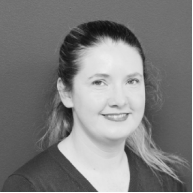 Michelle Tolmay
DIRECTOR OF INFORMATION SECURITY
PHOTOBOX
"With Surface Monitoring, we found subdomains we didn't know we had. Not only would we likely not have found these subdomains, but we also wouldn't have known about them until someone did something really nasty on one of them and held us to ransom over it."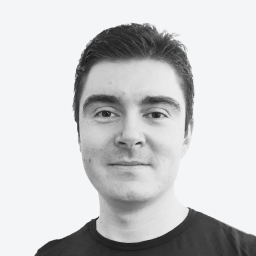 Catalin Curelaru
SECURITY TRIAGE LEAD
Visma
"We used other tools before, but we chose Detectify because it helps us reduce false positives and gets much information from the availability perspective."
Certification and awards
What's new from Detectify?