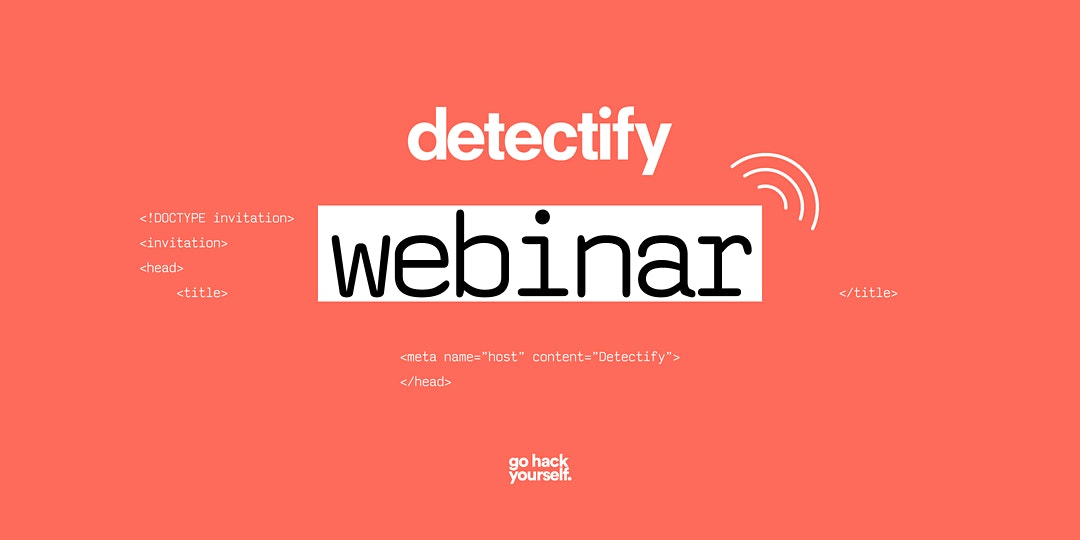 Welcome to the 3rd in the Detectify series of Webinars!
It's time for our 3rd Webinar and this time we will be talking to Johanna Ydergård and Tom Hudson (@Tomnomnom), our very own Crowdsource employees.
Johanna Ydergård, Head of Crowdsource @ Detectify
Johanna Ydergård is heading up the development of Detectify Crowdsource, our private bug bounty platform that powers our scanner engine. By collaborating with Crowdsource white hat hackers, we are able to source cutting-edge research faster and at scale. She will discuss the vision of Crowdsource, motivations for a hacker to join a platform like ours today and the achievements that have come out of this novel idea of automating crowdsourced hacker knowledge for our user base.
Tom Hudson, Security Research Tech Lead @ Detectify
In hacker circles, Tom Hudson is best known for his open-source command-line tools and love of reconnaissance. Tom moved into security research after more than a decade of software engineering, operations, and technical training. He considers his greatest hacking achievement to be scoring a $40k bounty and the Most Valuable Hacker award at HackerOne's H1-4420 live hacking event. When he's not hacking he's usually writing tools or watching excessive amounts of YouTube videos. Hear his take on automating crowdsourced vulnerabilities and how to combine web vulnerability scanning with other components such as bug bounty- and responsible disclosure programs.
We want to make this as interactive as possible and will leave plenty of room to ask questions so don't be shy to put your questions and feedback forward.
Save your spot and join us via Zoom link on Tuesday, June 16th, 17.00-17.45 CET / 8-8.45 AM PDT / 11-11.45 AM ET!
When & Where?
June 16th, 17.00-17.45 CET
Once you register you will receive a Zoom link to join the webinar. Existing customers will receive priority.
AGENDA: 17.00 - Introduction 17.05 - Talk by Johanna Ydergård
Crowdsource community at Detectify
17.20 - Talk by Tom Hudson
Fantastic Bugs and Where to Find Them
A look at different methods of sourcing vulnerabilities for your company.
Bug bounty programs, vulnerability disclosure programs, and security scanners all have their pros and cons. We'll look at why you might consider each one, the kind of bugs you can expect to be found, and some tips for maximising their effectiveness.
17.35 - Q&A
GO HACK YOURSELF!
Start a free scan today
Get started in a matter of minutes and scan your site as often as you like for 14 days. No credit card required, no strings attached.
Start your free trial